- [ Thursday, April 07, 2005 ] -
Purim, part 4: Hard Rockin Hamentashen
Purim Meshulash (Saturday Night, March 26):
The spirit of Purim and Shabbat was carried through to a great party. Kfar put together a great concert called
Hard Rockin' Hamentashen
. I was planning to attend anyway, because I needed to take advantage of this opportunity to hear the headliner,
The Moshe Skier Band
, in a bar, where his rock was meant to be heard. I also had been intending for some time, to get out and see the opener, local reggae/funk artists,
The Ari Ben Moses Band
.
Imagine my joy when I found out I would be opening the show with my associate band,
Heedoosh
. No, we weren't getting paid, but get this--I saved $15 x 2 for cover, they gave me two drink tickets for beer, free soft-drinks all night (a Diet Coke for m'lady) and on top of that, my good buddy, the promoter, bought me an additional beer. On such a long night, I didn't go thirsty.
Heedoosh
Heedoosh started a few years ago, largely as a writing project between two brothers, Yahav and Yaniv Tsaidi. They've been living in Chicago during my musically formative years, and we all rocked out a lot together. Yaniv moved away to New York and, with Yahav, began recording their collaborated material. They put together a live band in New York (amazing musicians, I've played with most of them) fronted by Yaniv.
Yaniv visits Chicago often, and when he does, he's usually able to get some kind of live show put together. He has his usual musicians that he plays with, both from his simcha band,
Shalheves Orchestras
, and from our rock band,
Ra'ashan
. From these bands, he was able to put together a group of guys that knows his style. Most of us have even played the Heedoosh material before. We prepared enough to pull together a great set. People really enjoyed it, and we got our photo in the Chicago Tribune (the article was nice and fluffy, but contained so many non-truths that I wonder if the author was even present).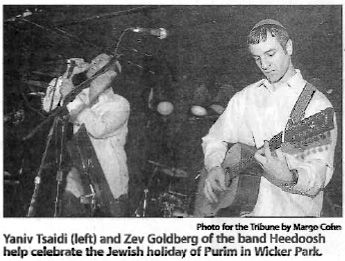 Ari Ben Moses Band
These guys were pretty cool, but I was mostly in the green room and socializing with all my friends. It was a completely different vibe than Heedoosh and MSB, but it was very welcome.
Moshe Skier Band

The evening was running late by the time they got on. Switching bands took a little long. A portion of the crowd left, as Jews typically aren't the most adept at staying out late in a bar. MSB rocked till 2 AM, and the 30-40 remaining souls were shouting for more. I don't know if it was the alcohol, but it seemed like their set just got better and better every song. Y
asher kochachem!
Thanks for coming out and we can't wait to have you back in Chicago.
And a great
yasher koach
to Adam Davis and
Kfar
for the great work he does making these great shows available to Chicago.
More commentary about the event by:
Milwaukee Jew-Rocker,
Psycho Toddler
Secret Chicago blogger,
Dilbert of House of Hock